I have had numerous requests for my bone broth soup recipe this week so here it is folks.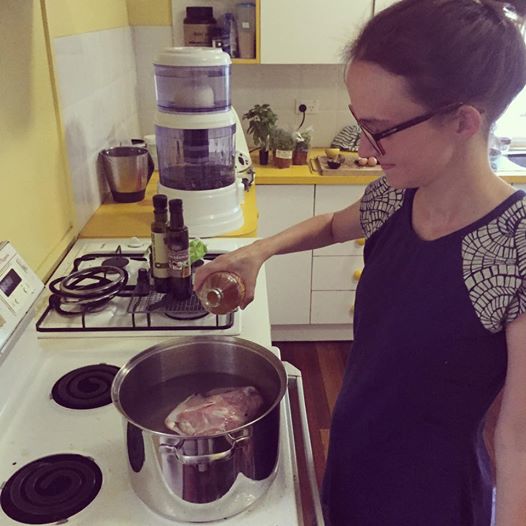 Ingredients:
1 organic chicken carcass, you can also use feet etc too if you want the broth to be gelatinous but if that's a little too gross just go with the carcass or pack of grass fed lamb marrow bones, beef bones etc. I like the chicken one best but lamb marrow can make a nice change.
1 tablespoon of Apple Cider Vinegar- this helps draw more of the mineral content out of the bones.
Handful of peppercorns (optional)
2 cloves of garlic (optional)
1 tablespoon of Celtic sea salt (do NOT use table salt) the natural stuff has all the trace minerals and health giving properties, table salt is stripped of everything and has added nasties.. you could also use Himalayan I just prefer Celtic J
A bunch of chopped up vegetables- I generally use a few stalks of celery including leaves, sweet potato, carrot, pumpkin, onion, leek etc. Use whatever you have and whatever you want really but these flavours and veggies work really well.
Pure filtered water
Method:
In a MASSIVE saucepan (this is one of the only things I still do one the stove rather than Thermomix as I like making a huge batch to freeze, as in litres and litres of the stuff, gotta stretch these bones and vegetables as far as possible!!) However I do always re-heat the stock in my TM as it's so easy, I generally put in on at 50 degrees for around 4 minutes depending on quantity and it's good to go, if it's frozen, mix it for a while on 37 degrees and then heat it up a little higher in TM to reheat, you don't want to do boil the living daylights out of it as you will lose a lot of the nutrients!!
Bone broth making is a pretty relaxed and varied method, you don't really need a recipe once you have the basics. Put in the large saucepan or crockpot your bones or carcass and then fill with water, add the ACV and peppercorns if using. Put on lowest heat and leave to simmer between 4 and 24 hours or even longer, I'm impatient so I generally don't do mine for more than 6-8 hours- which is fine!  If you're doing it for a very long time you may need to add more water to the pot several times.
In the last hour to an hour and a half of cooking add all your chopped vegetables and salt- you don't need to use the entire tablespoon of salt, depends how much you are making, if the pot isn't enormous reduce salt quantity or don't use it all and just add some as you need it when you reheat your own portions. In the last half an hour you can add a few cloves of garlic if you wish.
Strain liquid into various containers- glass ones are obviously best and freeze or keep some in the refrigerator for the next few days and the rest in the freezer. Enjoy!! I like to have a cup with meals. You can also use in sauces, roasting, soups etc