You think you will be locked in to ordering every month.
Opening a doterra wholesale account puts you under absolutely NO obligation to order every month, it simply means you get our products, drop shipped straight to your door at wholesale prices, to me it makes absolutely zero sense to pay retail for something when you could get it at LEAST 25% off and you save even more when you order one of the kits.
We do have an INCREDIBLY generous loyalty rewards program if you DO choose to order regularly and buy things you'd have to buy the toxic/synthetic version of anyway like toothpaste, skin care, cleaning products, personal care products and loads of things you'd normally buy from a pharmacy or supermarket.
You can learn more about the OPTIONAL loyalty rewards program here. It means that you can actually save up to 55% off the RRP over time and if you are wanting to earn commissions (totally optional) you will need to place 100pv order each month but if you change your mind this can be edited down or completely canceled at any time without any costs or hassle, you can also actually pay for these orders with your commission money, I only ever paid for my initial kit, everything else I've ever bought from doterra has been paid for with commissions or free product points!
The product value is beside the wholesale prices in the full price list. It can't be the dollar value as it is a global company so we work things out based on pv or product value.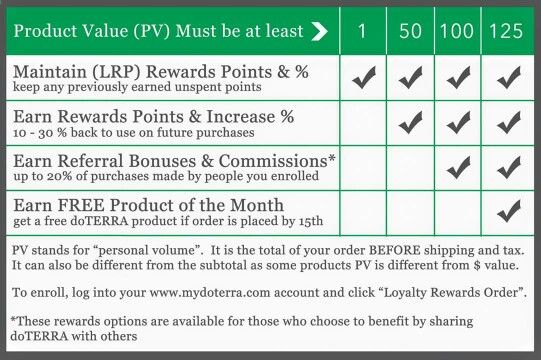 2. You don't know how to use essential oils and think you won't use them once you have them
One of the massive benefits of opening an account with a Wellness Advocate like me or the person that introduced you to the oils is the support and access to resources and information you get (please check with the person you are joining with as to what they provide).
I have created an incredible Facebook group for my team filled with resources and webinars to educate and empower people about the essential oils and products. There are always loads of classes and training events and the Modern Essentials book and app provides extremely comprehensive information even when you are out and  about you can look something up on your smart phone and know straight away how to use it.
I had the same concern when I opened my account that I wouldn't really use them and didn't know how to as I'd never used essential oils in my life aside from burning clary sage when I was in labor with my second child. However I now use several oils and products every single day of my life and can't imagine life without them.
And I certainly had the thought as I was interested in the business opportunity that I wouldn't know enough to be able to share and sell the oils to others and as I had no previous business experience that I wouldn't be able to do it.
Absolutely not true! It's not about knowing everything about every essential oil and product, you are not a practitioner! It's about giving people basic information (resources provided) and educating them to know how and where to find the information they need to empower themselves! All training is provided and you will be surprised how much you learn as you begin to use and share the oils.
I truly do use the oils every single day and get my monies worth. I take Digestzen our Digestive blend absolutely EVERYWHERE with me and rub it clockwise on my stomach or drink a drop in water to support my gut health. I use oils to balance my moods and help keep me calm and centred. I am wearing the InTune focus blend as I type this blog and diffusing Motivate to keep me on track. I woke up and did my skin routine with the Verage skin care collection and brushed my teeth with the On Guard toothpaste, once I have had breakfast I will take my supplements and I always have my keychain on hand so I have what I need everywhere I go, e.g. Lavender for bites, scrapes, burns, Easy Air (Breathe) if I need some extra respiratory support, Balance for grounding and calming etc. Check out this post for over 100 uses for our ten most popular oils and blends.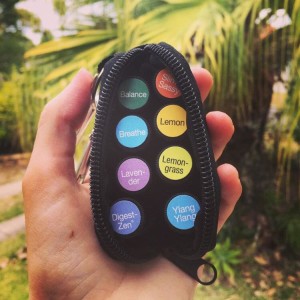 3. You don't want to be forced into selling the oils and be a part of a pyramid scheme/join the cult
You absolutely do NOT need to sell oils to have a doterra wholesale account and myself and team pride myself on avoiding that selling/ramming the opportunity down peoples throats at all costs. We want to serve YOU and your needs so if you are just wanting to use the oils for personal use we will support you to do that, if you are wanting to supplement your income and cover the costs of your oils/earn some extra cash we can support you to do that and if you are wanting to replace or multiply your income we can assist you with the resources and knowledge you need to make that happen!
Doterra is not a pyramid scheme (those are illegal). I have done a full blog post on this which you can read here. Nor is it a cult. We love our essential oils and value the company, values, opportunity and the people it attracts but we are fully aware that essential oils are not the be all and end all.
Wellness is about covering a number of bases, food, movement, sleep, reducing toxins, supporting mood, community/social inclusion, financial freedom and more. Essential oils can actually support all of these areas which is why we love them so much but we do NOT claim outrageous cures and claims and the very large majority of Wellness Advocates I have come across have a very sensible, grounded approach to the oils and business. We simply love what we do and aim to educate and empower others so that they can make an informed choice about whether or not they would like to be a part of what we have.
4. They cost too much/You can't afford it
For me it's about priorities, there is no greater investment for me than investing in mine and the people I love's health. Each 15ml bottle contains 250 drops of essential oil and they are so potent and pure that you really only need use a drop at a time (diluted in carrier oil such as FCO where appropriate).
So the Home Essentials kit you really are looking at cents per drop, Lemon for example is .05 cents per drop, even Frankincense, the most expensive oil in the kit is 34 cents per drop. When used appropriately your oils will last and you won't even question the investment once you have them in your life. Being able to turn to something that is natural, toxin free and SO effective and fast acting to support yourself and your family really is priceless. For me it is such an empowering feeling knowing I can help myself, my kids and all the people that come to me to learn more to support our health naturally.
I was in a pretty dire financial situation when I started doterra but once I had experienced the life changing effects of the oils I simply knew I needed them in my life so I made it happen. I sold stuff we no longer needed and scrimped and saved. If it means something to you, you will simply find a way and then I also used the investment to provide financially for my family!
Doterra prices are actually extremely competitive in the market and when you think about what it takes to source some of these oils from their natural habitat globally through our co-impact sourcing initiative and the fact that these oils are 100% pure (not 1ml essential oil 11ml multi-purpose liquid, whatever that is) like many other brands, you really are getting absolute value for money and the purest, most potent essential oils on the planet.
Some people think that because it is a direct selling or multi-level marketing company the prices are jacked up to compensate Wellness Advocates who sell the oils. Absolutely not true. They simply take the same budget that a regular company would use on tv, print, billboard, retail advertising and instead invest it in every day people who are advertising their product through word of mouth, workshops and social media like I do. Same budget, allocated differently. Word of mouth is still the most effective form of advertising on the planet. If you love a movie you tell your friends to go see it! If you love essential oils you tell your friends about it, they want to open wholesale accounts like you and pay the same price you do AND you get paid for the privilege of telling them about something you would've told them about anyway!!
5. They don't support Australian farmers and aren't an Australian company
We do support Australian farmers actually! Our Tea Tree and Eucalyptus oils are both sourced right here in Australia and over time hopefully even more will be added to the range. For me it is far more preferable to source oils globally where they naturally thrive rather than trying to grow plants in regions where they don't originate. The energetic and therapeutic value is much much higher and we get to make a massive difference on a global scale. Our oils are sourced from over 40 different countries around the world and over half of them are developing countries.
While the company originates in America when you open a wholesale account with an Australian Wellness Advocate you are also supporting many Australians like me who are building a life for themselves and their family and helping many other Australian's supplement their income or create financial freedom as well. It is truly amazing how much of a difference you can make in people's lives over supporting massive corporations who really don't care about the ingredients in their products or the producers of said product.
6. They aren't Certified Organic/CPTG is made up
No our essential oils are not Certified Organic, simply because organic certification is not even available in many of the countries we source from and it would end up making the end product FAR too costly to go through this process in so many different countries and even state to state the certification can vary.
Unfortunately the essential oil industry is extremely unregulated which is why doTERRA went to such lengths to create their own standards. What I love about this though is that EACH individual batch is third party tested. So it's not just doTERRA saying hey look! We have the purest, most potent essential oils on the planet! Without any evidence or backing. Independent parties are verifying this which is extremely important to me.
At the end of the day our essential oils are completely pure, they are free of pesticides, chemicals and anything else you would be concerned about in terms of organic certification. You can learn more about the CPTG standard here.
7. You already buy a different brand of essential oils
If you already love and use a brand of essential oils that's great! I get a few from local Australian companies that aren't yet available from doTERRA such as Lemon Myrtle and Ironbark. I would just love if everyone experienced our oils because they are so pure and as soon as people smell them they experience something truly amazing. Working with the therapeutic value of our range and the proprietary blends really is a mind blowing experience so I just encourage people to have an open mind, try something new and see what they think, you will be surprised!
8. There is no science to say that essential oils actually work
I love when people say this because it just simply is not the case anymore!!! Essential oils are becoming more and more mainstream by the day and have a myriad of science and research to back their efficacy and value.
In fact because our essential oils are so pure and the potency and therapeutic value can be trusted, they are being used in studies by some of the most World Renowned Research facilities on the planet. There is a plethora of published journal and medical articles on PubMed a Government publication about essential oils and you can also check out Aromatic Science.
Essential oils truly do work on the cellular level, they are lipid soluble so can penetrate the cell membrane and work both outside and inside our cells. They have powerful natural chemical constituents that work synergistically with our bodies to support various systems and organs and they also work on the emotional level, as we smell something it enters the olfactory system and travels to the limbic system, the emotional centre of our brain, having a powerful effect on our mood. Much greater detail is available in the Modern Essentials book which is an amazing resource for anyone wanting to learn more and explore the world of essential oils.
9. They are dangerous to use/you aren't qualified to use them
One of the reasons I love using essential oils on myself and for my family is because they are actually SO much safer than other conventional products I could be using. Like anything, understanding how to use them safely and effectively is of course essential. But understanding the ingredients and side effects of other products, there is no question about what I would choose to use.
One of the main concerns with essential oil usage is simply skin sensitivity. This can be avoided when you properly dilute the essential oils with a carrier oil such as fractionated coconut oil.
A generic and simple rule is 1 drop of eo to 10ml of carrier oil for infants, one drop eo to 5ml carrier oil for kids and one drop eo to 2ml carrier oil for adults. Of course this is just a general guide and need not be the blanket rule for everyone and every situation but I always prefer to dilute for topical use as it saves money, goes a lot further and reduces risk of skin sensitivity, if you apply an essential oil straight to the skin much of it will be lost in evaporation so using a carrier oil actually increases the effectiveness of applying your essential oil.
In recent years there has also been a lot of uproar about the internal use of essential oils. In particular many people claim that using essential oils internally will damage the mucous membranes. This fear has been found to be unfounded. You can learn more about this here.
Ultimately we are not treating, curing, diagnosing, preventing or prescribing essential oils to anyone. It is important that people understand how to use oils safely (which we support them to understand) and that they check with their health care practitioner if they have any concerns.
Essential oils are safe to use with most medications, again check with your health care practitioner for specifics.
10. Your partner/husband doesn't believe in them and doesn't want you to waste money
Where possible it would be a fantastic idea to have your partner experience the essential oils first hand, we call Ice Blue the man converter for a reason. Nothing compares for tight/sore/tense muscles.
I also find the strategy of actually sitting down and having a genuine and open conversation about why this is so important to you really helps, if you look someone in the eyes and express what this means to you and why you think it is such an important investment for the family they are much more likely to understand where you are coming from. Maybe show them this article, watch some of the doTERRA videos on youtube with them, attend a workshop with them if possible and ultimately express your heart to them!
I hope this post has helped give you a greater understanding of the truth and possibilities with doTERRA. If you are ready to open your very own wholesale account head here or send me an email at info@getafreshstart.com.au if you have any questions or contact the person who introduced you to the oils.