1. There are many reasons I absolutely love doTERRA essential oils, products and being involved with this company but the number 1 reason for me is the co-impact sourcing model. Here is a fantastic little video about what this means. Essentially doTERRA work with farmers from all around the world, including Australia where the Tea Tree and Eucalyptus are sourced from. They work with the farmers to develop cooperatives and put a lot of science and research to find where best to source the oil so that it has the highest therapeutic value possible with the correct ratio of chemical constituents for what they want to achieve (eg the Cardamom is excellent for both digestion and respiratory function because of where it is sourced in Guatemala and the ratios of chemical constituents).
Here is a graphic showing where our oils are sourced and here is a video about sourcing Lemon essential oil from Italy and here's one about sourcing Vetiver from Haiti. What I love is doTERRA's amazing philanthropic generosity, the work they do with the Healing Hands foundation is incredible, building schools and getting fresh running water where previously people had to work three hours each way for dirty water, I cry every time watching the Vetiver video.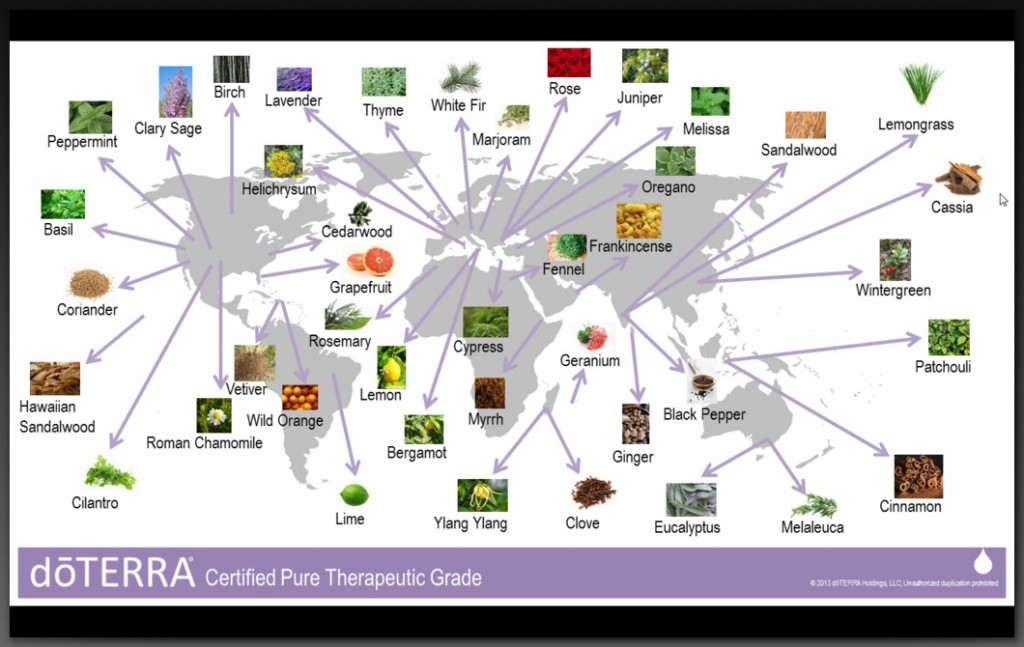 2.  Their purity and efficacy will stun you. There are no fillers, synthetics, fragrances, perfumes, pesticides etc, just 100% pure Essential Oil. My friend paid good money for an Australian Certified Organic oil in a health food store, only to get home and read the label, it read 1ml pure essential oil, 11ml multipurpose liquid. With doTERRA you are paying for 100% pure essential oil!! Absolutely no fillers.
3. Are the oils Organic? No they are not, they are a 'step above'- yes I thought this was wankery at first too, but bare with me and read on..
Words of wisdom from Penelope Sherwood (one of the women involved in introducing me to these oils and someone I personally and professional hold a great deal of respect for).
"Having worked in & having very close & very relevant relationships in the "organic " industry (including being blessed enough to have as one of my best friends , the founder of the WORLDS FIRST certified organic skin care company) I can assure you that there can be a standard "better" than certified organic. Also the criteria for "certified organic" is extremely loose in a lot of instances. The standard in Australia ACO is probably the best in the world but can still leaves gaps in ultimate quality of product or food. These issues are the very reason the owners of doTerra went down the path they did re CTPG . They wanted assurance of the individual batches of oils BECAUSE "certified organic" standards vary enormously globally & I know what I'm talking about because I have been in the thick of this for over 30 years . The testing processes that these oils go through are bar none across the planet & I have been in the US watching & listening to INDEPENDENT EXPERTS backing up the efficacy & the purity of these amazing oils . The information Jessie has is based on years & years of research & commitment to being able to provide the absolute purest & most efficacious oils possible on the planet."
dōTERRA's quality standard for essential oils, CPTG Certified Pure Therapeutic Grade® , exceeds industry standards. Because organic certification varies from country to country, province to province, and in the US, from state to state, it is not currently possible to acquire all oils under certified organic status. However, through the GC/MS analysis process, we are able to determine if any chemical residue exists in the essential oil, such as pesticides, herbicides, extenders, and solvents. With this rigorous analysis process, we are able to ensure that all CPTG Certified Pure Therapeutic Grade® essential oils offered by dōTERRA are a step above organic.
CPTG Certified Pure Therapeutic Grade® essential oils mean something very different. It means we protect the chemical compound of the plant just as it was produced from the earth. We don't need to improve upon that. If we have the care, the scientific knowledge, the commitment and the integrity, we can preserve that." -Dr. David K. Hill, dōTERRA's Chief Medical Officer.
We source our essential oils from a number of growers and distillers from around the world. Each location has its own specific laws and rules governing agriculture and collecting wild crafted botanicals. We look for plant materials that are grown in specific environments, but we cannot say that our oils are all "organic" as that requires specific certification that we simply cannot produce for some of our oils.
Our CPTG Certified Pure Therapeutic Grade® testing standard requires that our oil extracts be both free of other foreign materials, which is one of the main reasons for people seeking organic botanicals, and it tests for certain compounds at certain levels so that our oils meet the performance criteria for each lot of oil. If an oil fails the test, specifically pesticides, there is no secondary process for removing the pesticides or foreign matter. The oils failing the test would simply be rejected. Other than the careful distillation of the oils from the plant material, there is no other processing that takes place. They are aromatic extracts, nothing added, and nothing removed—they either meet our standard or they don't.
We partner with experts that have a lot of experience in this field, and their long history is part of the art of producing such beautiful oils. They are farmers, collectors, and chemists, but they are committed to distilling essential oils as artisans; and we believe are mindful of their environments and are committed to sustainable practices. Our network is vast and our suppliers' methods are diverse. If we were to learn of any actions of a supplier causing harm to either the environment or to the local people of their community, we would certainly seek other and more appropriate sources. Our long-term hope is as we grow the demand for essential oils, we can help develop clean industry for local economies around the production of plants and extracts. Steam distillation is a very clean process. No solvents are used in the process, the left over plant material can make good compost, and the waterwaste stream is clean but for a hint of beautiful-smelling aromatics.
- See more at: http://doterrablog.com/are-doterra-essential-oils-organic/#sthash.74AjPNYE.dpuf
MORE ON CPTG here http://www.doterratools.com/documents/CPTG_Brochure.pdf
4. The Extraction Methods doTERRA Uses.
Essential oil quality is notably one of the most debated subjects among essential oil enthusiasts. There are differing opinions on what an essential oil is and how it should be extracted and even used. Many have learned that a statement of purity on the label does not necessarily mean a guarantee of quality and are left disappointed. dōTERRA recognizes that when you turn to essential oils as part of your health-care regimen, you expect positive results. Our CPTG Certified Pure Therapeutic Grade® trademark represents the dōTERRA quality assurance standard of nature's most pure and potent plant extracts carefully selected from growers around the globe and quality checked by the world's brightest, most competent chemists.
A quick review of chemistry establishes that an essential oil is comprised of volatile aromatic compounds; a lesser known principle, however, is how essential oil chemistry reaches its maximum potency in each individual plant. Providing each plant its own individual aromatic profile and other characteristics, aromatic compounds may be partially or, at times, dramatically altered due to environmental factors. Although each individual environmental factor cannot be directly controlled—such as rainfall, seasonal temperatures, etc—sourcing appropriate plant material is fundamental to ensuring therapeutic benefit. Developing long-lasting and often exclusive relationships with growers throughout the world ensures sourcing longevity and the opportunity to select plants from the most appropriate environments for each plant or oil profile.
EXTRACTION METHODS
Varying extraction methods are used in order to remove the aromatic compounds from plant material. Oftentimes, toxic solvents are used to separate the essential oil from its corresponding plant—a practice dōTERRA is adamantly opposed to. dōTERRA primarily uses two types of essential oil extraction: steam distillation  and  expression. Both of these processes are organic.
STEAM DISTILLATION
Steam distillation is the most common way to extract aromatic compounds (essential oil) from a plant. During the steam distillation process, steam passes through the plant material. The combination of heated steam and gentle pressure causes the essential oil to be released from microscopic protective sacs. As the vapor mixture flows through a condenser and cools, it yields a layer of oil and a layer of water. The essential oil rises to the top and is separated from the hydrosol (floral water) and collected.
Some have asked about the difference between first distillations in comparison to complete distillations. Truth be known, almost all essential oils are distilled in a single process, so a first distillation anda complete distillation are one in the same. One exception is ylang ylang because it is highly prized in the perfume industry where varying aromatic compounds are desired dependent upon their molecular weight and aroma. A disrupted distillation process is oftentimes used where "extra", I, II, III, and "complete" essential oil classes are collected. dōTERRA uses ylang ylang complete wherein the blossoms are steam distilled in a single process so that all of the aromatic compounds from the plant material is collected. We use ylang ylang complete because we source essential oil for therapeutic benefit rather than for perfumery purposes. The temperature for steam distilling is usually between 140–212 degrees Fahrenheit. Since different plants require different pressures, times, and temperatures, using this particular distillation method makes it possible to adjust the temperature based on the plant type, making it a very effective and precise way to obtain the purest compounds.
For example, dōTERRA Hawaiian Sandalwood essential oil undergoes a laborious and time-consuming procedure. To collect the oil from the actual wood, the outer layers of the wood are stripped from the heartwood. The heartwood is then chipped, filtered, and then chipped again into finer pieces before undergoing a 36-hour steam distillation process of high pressure and high heat. The whole process requires enormous amounts of fuel, energy, and time, making this exquisite essential oil so valuable. In comparison, the steam distillation process of Peppermint typically takes less than two hours with very low heat and pressure.
EXPRESSION
Unlike steam distillation, expression, sometimes referred to as "cold pressed," does not involve heat. In this process, oil is extracted from the product under mechanical pressure. dōTERRA uses expression to extract all of its citrus oils, such as Wild Orange, Lemon, Lime, Bergamot, and Grapefruit, from the rind.
Regardless of the care, and skill exercised in plant selection, care and harvest, much of the quality can either be preserved or diminished during the distillation process. Proper distillation requires a consideration for the uniqueness of pressure, temperature, time, and harvesting practices, each of which may be as diverse as the plants themselves. A poor distillation process can alter or destroy the necessary aromatic compounds that comprise the essential oil, leaving a substance far different from the intended goal and something that would not be used to support health and wellness. For this reason, the best distillation artisans dedicate their efforts and work to only a few select plants. This focused effort develops proper knowledge and experience, helping ensure congruency between the oil chemistry of the plant and its distilled form.
dōTERRA works with a network of distilleries throughout the world, relying on expertise that has been proven over time. Distillation is both an art and a science.
The art and science of proper distillation can create a pure and potent essential oil with beautiful properties that promote well-being for you and your family. This is just one of many aspects of the dōTERRA CPTG Certified Pure Therapeutic Grade quality assurance standard that allow us to offer products you can trust.
- See more at: http://doterrablog.com/distilling-essential-oils-a-work-of-art-and-science/#sthash.T6cNu6Lh.dpuf
5. The integrity of the people involved. Right from the top and down to the Wellness Advocates. Everyone I have dealt with has been amazingly supportive, fostering team work, and actually CARE about peoples health and welfare, it's amazing and a really wonderful community to be a part of. The Customer support is also second to none.
6. There are so, so many uses, you will here oil obsessed people like me say There's An Oil For That!!! There literally is! I love that they are cents per drop and there are 250 drops in a 15ml bottle, 85 in a 5ml bottle, you literally only ever need a drop to maybe 3 at a time. They are so powerful and potent! I always dilute with a safe carrier oil when using topically for this reason. Check out this post for 150 uses for the Essential Oil Collection/Home Essentials Kit..
7. I normally hate things that have a smell, this stems from my many, severe chemical sensitivities, Ambi Pur, Cologne, Perfume and Cosmetics give me migraines and effect my asthma, with doTERRA I can actually wear my own homemade perfume again (simply fractionated coconut oil and 100% pure essential oil). I can make my own safe, natural and effective household cleaning products, I can make my partner cologne, I can make my own air freshener, all with health BENEFITS rather than DETRIMENTS. It is truly awesome. And that's just a few of the things I use these oils for!!
8. The owners of doTERRA have never taken outside investment, they literally put everything they had into this company to maintain the integrity of it, they didn't pay themselves for over a year and after that took a considerably lower wage than they were accustomed to so they could keep corruption and investment out of it and stay true to what they wanted to create, it was and always will be about the products, the purity, potency and indigenous sourcing of these amazing  oils. You can read more about the facts, milestones and company here.
9. We don't bad mouth other companies to better our own position. There are many wonderful essential oil companies out there, they are not to be sneezed at. We simply stand behind our amazing, ethical, sustainable, indigenously sourced, magical little bottles of alchemy and light and share our experiences and why these resonate so well for us. If you love a different brand that's totally ok! As long as you are using and benefiting from essential oils I am happy. I encourage people to simply open the bottle and give these a go.
10. Because I said so. That sounds lame. But I don't put my name next to anything that is undeserving. My BS meter/radar is most definitely in tact. I won't have a bar of synthetic rubbish. If it's got my tick of approval it must be alright. (I research things to the max, you may have noticed).
To get started read this post.
FREQUENTLY ASKED QUESTIONS
Q: dōTERRA's essential oils carry the mark CPTG Certified Pure Therapeutic Grade®. What does the mark mean?
A: Although there are good essential oils available to consumers, many products claiming to be essential oils often are not pure aromatic extracts and often contain fillers and non-aromatic compounds. Furthermore, there are no current regulatory standards for the descriptive use of the "therapeutic grade" for products labeled as essential oils. The CPTG Certified Pure Therapeutic Grade® mark represents dōTERRA's own internal standards for sourcing and testing pure aromatic botanical extracts using independent laboratory analysis. The dōTERRA brand and registered CPTG® mark represent dōTERRA's guarantee of pure essential oil extracts that meet high standards for both purity and material composition and for accurate product labeling.
Q: Why do your essential oils smell so much better than other essential oils on the market that claim to be therapeutic grade?
A: Aroma is an excellent indication of true purity. A pure essential oil will elicit powerful emotional responses and will not be overbearing in any one note. Many people have described dōTERRA's CPTG essential oils as "sweet" or "extremely pleasing fragrances". This is because when plants are grown in a region in which it is indigenous, with proper nutritive soil conditions, air quality, weather/moisture, are harvested at the right time and carefully distilled, the essential oil extract will be pure and of the highest quality, thus having a fragrance that exceeds that of oils that have been diluted or synthetically produced. Unfortunately, there are many essential oils on the market that claim to be "therapeutic grade", "pure", or "natural" that do not follow strict standards for purity and potency. The best way for a consumer to know the quality and value of any product is to experience it for themselves.
Q: Do you grow your own plants and own your own farms?
A: We have found that a primary key to superior essential oil quality is the location in which the plant is grown. For this reason, we carefully source our essential oils from all over the world, rather than from a few locations that are not native habitats for the plants. For example, our Lavender is grown in the high altitudes of France, our Lemon comes from Italy, and our Frankincense is sourced from Oman. Because our management team is trusted and respected by global producers, we are able to secure precious crops for essential oil production from preferred suppliers.
Q: I have been involved with another network marketing company in the past and am looking to build a relationship with a company that will be committed to the products, consumers, and consultants. How was your company founded, and how can I be sure that I can trust this company's management?
A: The founders of dōTERRA are a group of healthcare and business professionals who came together in the spring of 2008 with a common vision of bringing together a new standard of therapeutic-grade essential oils to the world. The founders have several years' experience in the direct-selling industry and have earned degrees from top universities. Prior to forming dōTERRA, the founders had successfully managed several large companies, which flourished under their management. They are well-respected, honest, hard-working individuals who have sacrificed much to bring this company to fruition. They are successfully achieving their dream of bringing the purest, most effective essential oils to the world. (To read dōTERRA's Mission Statement, please click here.)
Q: I love dōTERRA's products, but am hesitant to become involved in direct sales. If I decide to join, are there opportunities for me to learn more about the products and to learn how to build my own business with dōTERRA?
A: dōTERRA recognizes that as essential oils are becoming more mainstream, there is a greater need for education. dōTERRA provides exceptional educational opportunities for all people interested in learning how CPTG® oils can be used as a self-care wellness alternative. These events are offered throughout the year from one of the leading essential oil experts, Dr. David K. Hill, as well as other guest presenters. In addition, we offer training workshops, webinars, and business-building tools to help you embrace the business prospect and become successful in your efforts to distribute our products through person-to-person contact and globally through personalized web shopping sites.