I know as a business you need to stock products and create services that align with your values and integrity, whilst making a good profit and serving exactly what your customers are after.
Partnering with myself and doTERRA essential oils will be a fantastic accompaniment to your range of products and services, delight your customers and help them solve their problems, support farmers, including Australian farmers as well as farmers globally including in 20 developing countries and bring in a wonderful income stream.
You want super high quality products that fly off the shelf and have a proven track record and great demand! To read more about why I chose to partner with this particular incredible brand read this post or watch this short video below which explains a little more about our amazing co-impact sourcing method creating jobs around the world and changing thousands of lives as well as ensuring we provide some of  the most pure, potent and natural essential oils on the planet. You can have peace of mind knowing they have been ethically and sustainably sourced and are supporting, rather than destroying the planet.
Some of the retailers we work with include Shop Naturally, one of the largest natural retailers in Australia, local Health Food stores, Chiropractors, Pilates/Yoga/Meditation studios, Wellness Centres, Retreats, Massage Therapists, Nutritionists, Health Coaches, Cafes as well as online stores and bloggers who offer a range of natural, safe, pure, effective and incredible products.
Businesses want to save the most money possible so the smartest option for them to start with is our incredible Oil Sharing Kit which will give you products to stock immediately and provide the most long and short term savings.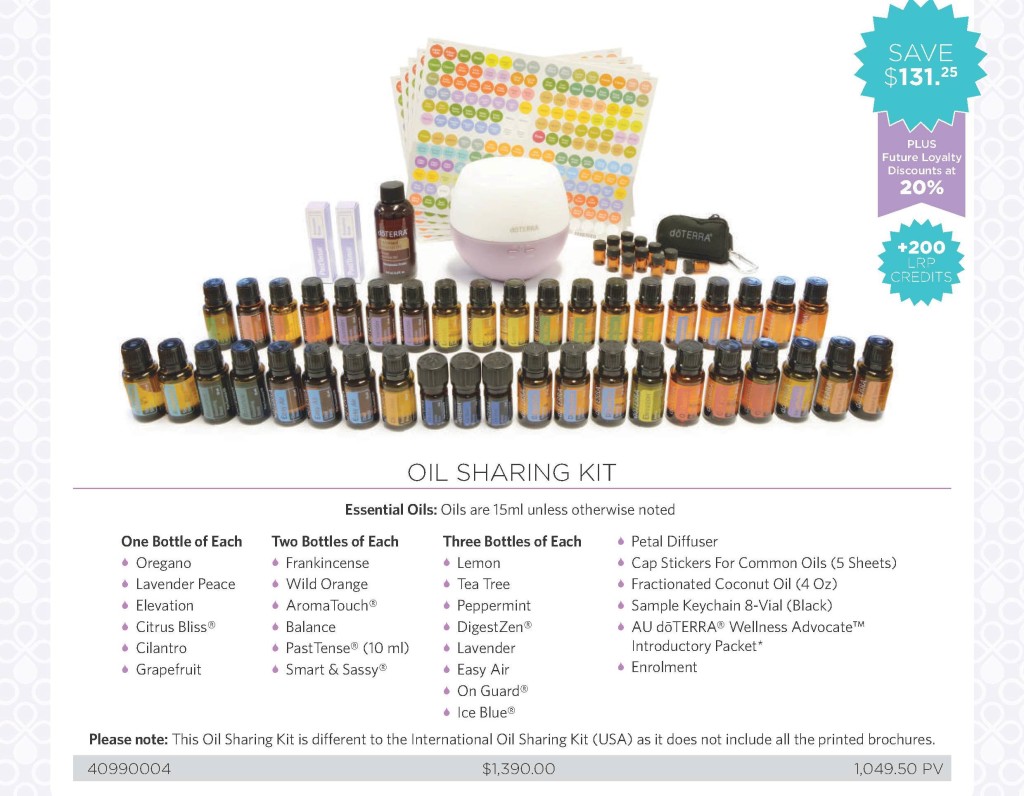 It comes with multiples of our most popular and top selling essential oils as well as your wholesale membership, you will save $131.25 PLUS receive 200 free product credits worth over $200 when you place a min 100pv (around $150 value) order the following month you set your account up).
Plus you start straight away on 20% loyalty rewards, a much higher rewards program than other kits which means you not only get wholesale prices but each month you purchase more stock for your business you will receive 20% back to spend on more free product, this will go up to 25% after three months and 30% after 6 months, saving you a total of 55% off the recommended retail price. For more understanding and terms and conditions of our loyalty rewards program watch this video and read this document.
On top of all this every time you place a loyalty rewards order online you will get points back for your shipping as well so this means your shipping is 100% free for local orders!!
To make your life even easier I am offering a one hour one on one consultation to new business customers who open an account with an oil sharing kit, plus you will have access to our incredible customer service team, facebook group and loads of training and materials whether you are just wanting to stock the oils retail or even help both customers and other retailers get wholesale access to our products to create an even greater income stream in your business.
As the leader of one of the fastest growing businesses in Australia I would be more than happy to talk to you about how I have created a thriving and abundant income stream with these incredible essential oils and products and how you can too. There is currently less than 1% of the population with these oils in their home and HUGE room for growth and potential as consumer demand grows for natural, safe and effective products so I would love for you to be a part of it.
To get started straight away head here and choose English-Australia, ship to Australia (or if you live somewhere else feel free to contact me so I can help you decide on the best option for you). Then on the next page make sure you choose WHOLESALE ACCESS, then fill in your details and choose the Oil Sharing Kit from the kit options.
Alternatively book in a free consultation with me or contact me on info@getafreshstart.com.au or 0437 636 661 and I can help you get set up over the phone.
I look forward to partnering with you and supporting you on your journey.