Thank you so much for taking the time to write. I appreciate you reaching out to me and taking an interest in what I am creating!
Unfortunately I no longer have the capacity to respond to everyone individually and do not have any openings to mentor those outside of my own team at this stage.
However I want to help everyone succeed on their journey so have created this page as it will be able to point you in the right direction and answer many of your questions!
If you do not yet have a doTERRA account
I will endeavour to get back to you and respond to any questions you may have as quick as I can!
If you already know which kit you want head to www.mydoterra.com/getafreshstart and click JOIN AND SAVE and follow the prompts to open your wholesale account.
If you already have a wholesale account 
You are most welcome to take advantage of all of my free public resources and attend my events. I am no longer able to answer everyone's questions individually. Please reach out to your own upline, join facebook groups relevant to you, utilise a search engine such as google to see if they can't answer your question or check one of the following.
For all questions related to ordering product, doTERRA run events or customer services enquiries please phone (02) 8015 5080
To take advantage of my youtube channel and the huge amount of training on there including the A to Z series and past webinars visit here
If you have a question about an ingredient or sourcing method of any of our products email productsupport@doterra.com
How to use the oils
GENERAL guideline for dilution is 1 drop eo to 15ml (tablespoon) carrier oil for infants. 1 drop to 5ml for children and 1 drop to 2ml for adults. Again this is a general guideline for those brand new to oils and particularly for more caustic oils like Oregano, Digestzen, Peppermint, On Guard etc. As you get to know the oils more and make perfume blends etc this will change depending on sensitivity and oils used eg Lavender and Frankincense are generally much more gentle on the skin so you may not require such a heavy dilution. Please do not get so hung up or obsessed about exact amounts and get to know your oils.
Check out the doTERRA blog to find loads of recipes and hints and tips about how to use them and the recipe section of my blog.
Resources- books, roller bottles etc
There is no point investing in essential oils if you are not willing to invest in resources to be able to use them.
Download the Modern Essentials app on your smart phone
Purchase books from au.aromatools.com ie the latest edition of the Modern Essentials book and the Emotions and Essential Oils book are two of my favourite resources. There are also books for pets, pregnancy, cleaning etc
You will also be able to purchase roller bottles, sample vials etc from the same site.
How to set up your LRP (loyalty rewards program)
This way of ordering is optional but is by far the most cost effective way to buy things that you already buy the toxic, synthetic version of from the supermarket or chemist.
The doTERRA website has lots of short training videos about how to use the back office. Here is the one showing how to set up your LRP order.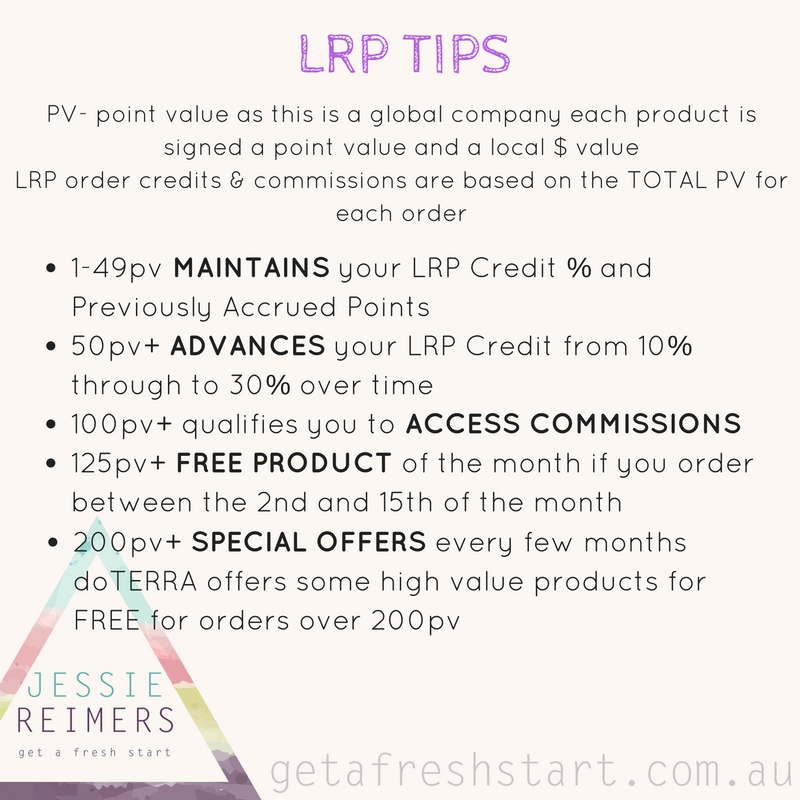 Business Training
Here are links to previous training videos and webinars I have created or been involved with
Other business building tools
Recommended Reading
Personal development is crucial for growth, transformation and joy in life and business. Here is a list of my top recommended books, especially if you are building a doTERRA business
You Can Heal Your Life by Louise Hay
Starfish by Neal Anderson
The Big Leap by Gay Hendricks
The Law of Divine Compensation by Marianne Williamson
A Return to Love by Marianne Williamson
Big Magic by Elizabeth Gilbert
Go Pro by Eric Worre
Tribes by Seth Godin
7 Habits of Highly Effective People by Stephen R Covey
If you can make it to one of my training events, Convention or Leadership retreat feel free to come say hi and of course feel free to share my youtube videos and posts on social media. You have everything you need to make this a roaring success, use your initiative along with doTERRA's website, resources and everything I provide free to the public and go out and forge your own path, create your own content and share your light with the world! You've got this.
To your health and prosperity,
Jessie Reimers