Know what you want already?
Head to www.mydoterra.com/getafreshstart and click SHOP for retail orders. However the most intelligent way to purchase our oils is to open a wholesale account which I recommend to absolutely all of my customers as there are no minimums or lock in anything UNLESS you want to take advantage of our totally optional and incredibly generous loyalty rewards program or earn commission, these options can be changed or cancelled at anytime without any penalties incurring so read on to learn how you can benefit from our incredible products at the lowest possible prices!
If you already know which kit you want head to www.mydoterra.com/getafreshstart and click JOIN AND SAVE and follow the prompts to open your wholesale account.
June Special
This month when you open a wholesale account or place a 200pv order on your account you will receive a FREE Salubelle Blend valued at $129.33!!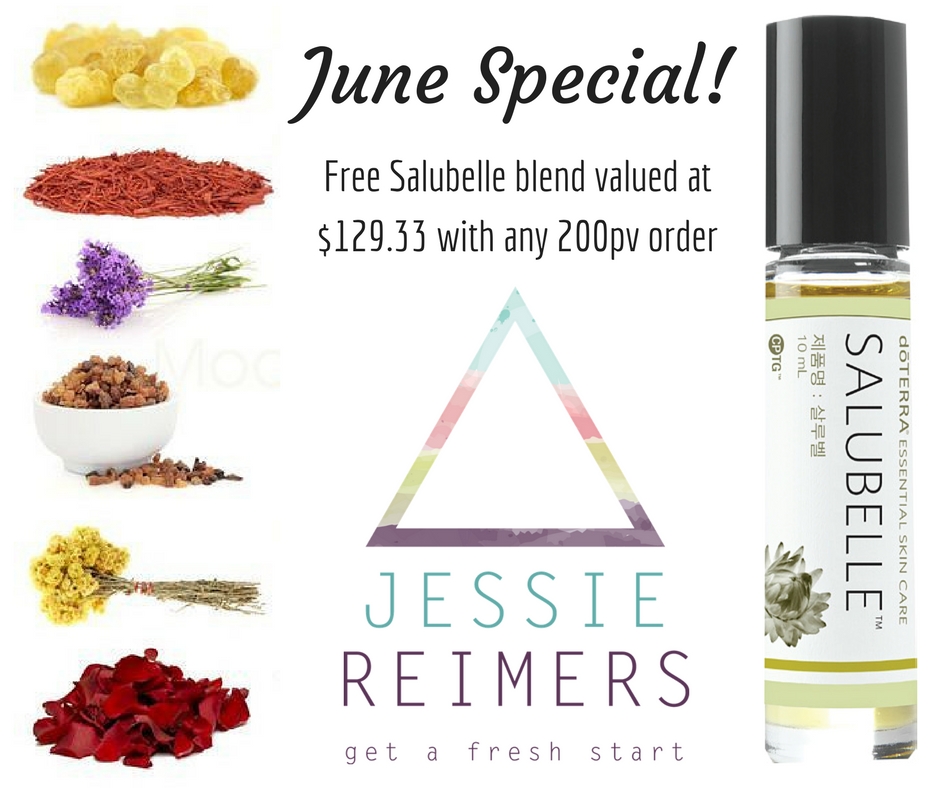 If you already know which kit you want head to www.mydoterra.com/getafreshstart and click JOIN AND SAVE and follow the prompts to open your wholesale account.
What is an essential oil?
Essential oils are pure extracts from plants, they are 50-70 times more powerful than herbs and are nature's defense mechanism for plants and cells. They are highly concentrated so a little goes a very long way and they are a safe, effective, affordable, and an alternative to many synthetic products/remedies.
They have truly changed our lives!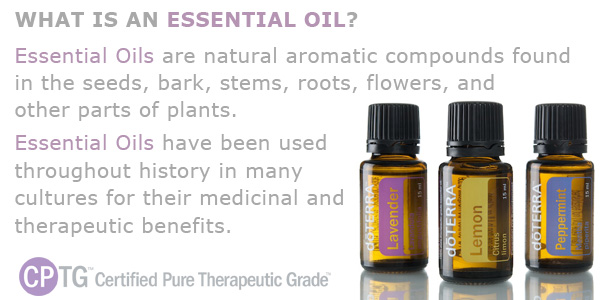 How did I get started on this journey?
How do I use them?
We use them for everything from-
Replacing toxic household cleaning and personal care products (recipes here)
Making safe, phthalate free (potent hormone/endocrine disruptor), toxin free perfume and deodorant
Taking care of ourselves, kids, family, loved ones, friends and community in hundreds of different ways (more recipes)
Naturally flavouring food- try my Jaffa Slice & Peppermint Bliss Balls
Calming my kids down, helping them focus and stay grounded in the day and go the f%&$ to sleep at night (recipes)
Supporting our immune system, respiratory function, cellular health, digestive system, energy & vitality, nervous system, emotions, hormones and SO MUCH MORE!!!!!
We also have a private members only support group full of training and info that you will have access to once you have your membership. It's a fantastic community full of like-minded people using, sharing and loving their oils

Why doTERRA essential oils?
In short, I love their co-impact sourcing model and that they source the oils where the plants naturally thrive- using ethical, sustainable practices and supporting farmers. Here's a short video explaining a little more about how this system works. More info about the company can be found here.
I also choose them for their purity and potency, stringent practices and third party testing. Find more here.
Become a member of our oily community
Wholesale pricing (25% discount)
No monthly order required
(unless wanting to earn commission or take advantage of maximum savings with loyalty rewards- can be edited or cancelled at any time with no fees or charges)
Option to receive 10-30% of your total purchase back in FREE product points (on top of the 25% discount)
Eligibility to receive dōTERRA's FREE Product of the Month
Ability to earn compensation and bonuses by sharing with others
This is the lowest overall product cost & smartest way to buy

Sign up and order from the AUSTRALIAN Warehouse
CLICK HERE and choose the AU OTG local warehouse, WHOLESALE ACCESS option, and either pick the kit you want or choose the $35 enrollment option (waived with a kit) and type in below the names of the products you want from the full price list.
Here's a quick video tutorial if you need assistance setting up your wholesale account.
The enroller ID should prefill but if it doesn't my ID is 1021209
Do you live outside of Australia?
Please contact me directly via email at jessrems@gmail.com or through my facebook page if you live in a different country and I can help you with the packs in your currency.
Below are the kit inclusions for Australia
Have you seen our BRAND NEW KIT?
The Nature's Solutions Kit is RRP $1124.42 however as a kit is only $659.95 saving you a massive $464.47
The price & kit includes Wholesale Account ($35) Shipping ($24.95) Save 25% off ALL your products for 12 MONTHS 15ml Single Oils Frankincense, Lavender, Lemon, Lemongrass, Peppermint, Tea Tree, Oregano and 15ml Blend Oils On Guard, DigestZen, Easy Air, Purify, Aromatouch, Lavender Peace, Citrus Bliss, Smart & Sassy and Other Products 5ml Ice Blue, 10ml Past Tense, 10ml Clary Calm, Tube Ice Blue Rub, Correct X ointment, East Air Vapour Stick, On Guard Foaming hand wash, 2 dispensers, On Guard Beadlets, On Guard Toothpaste and Fractionated Coconut Oil.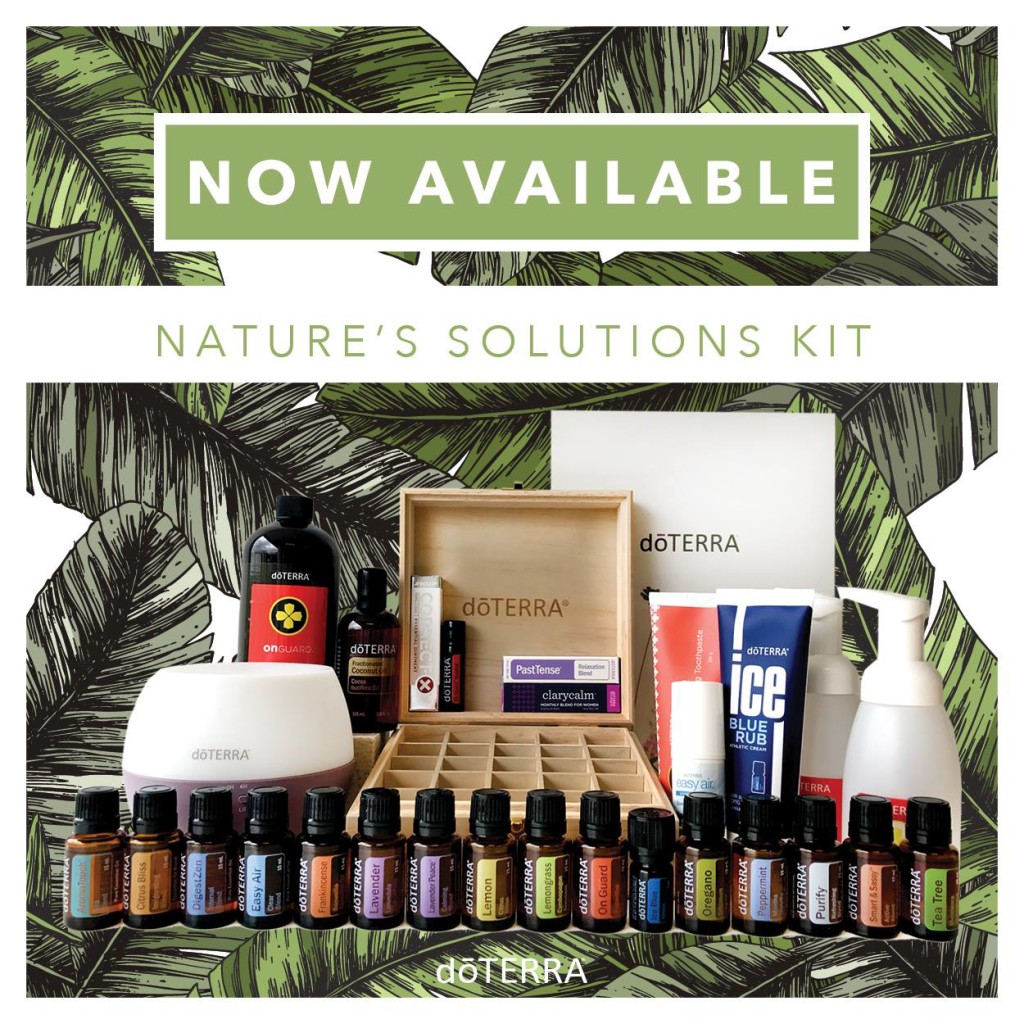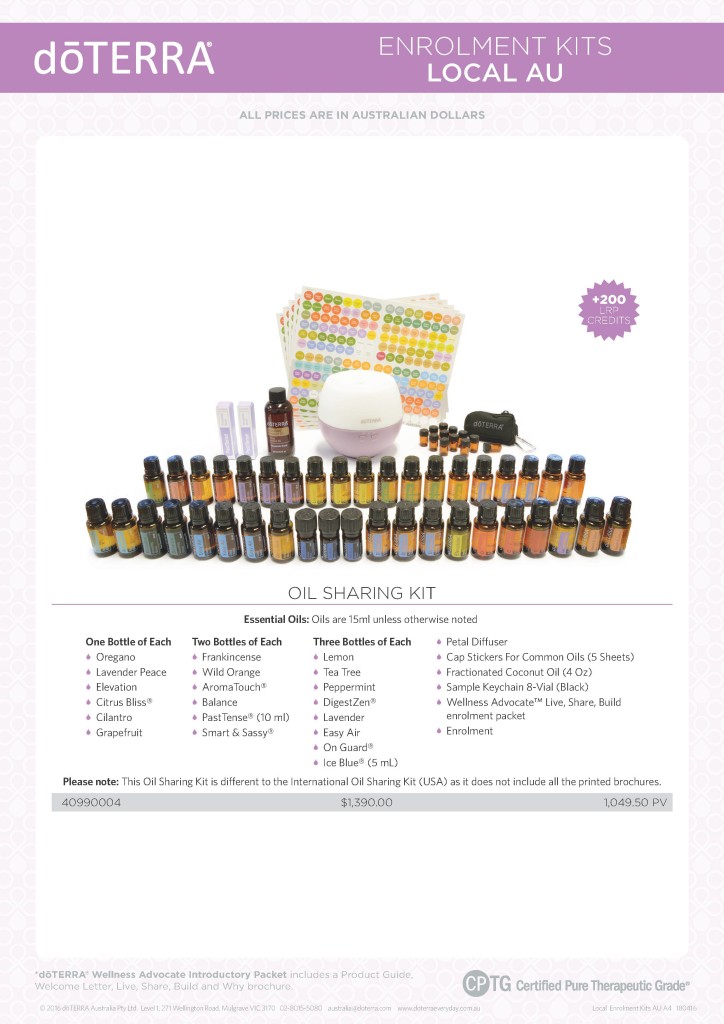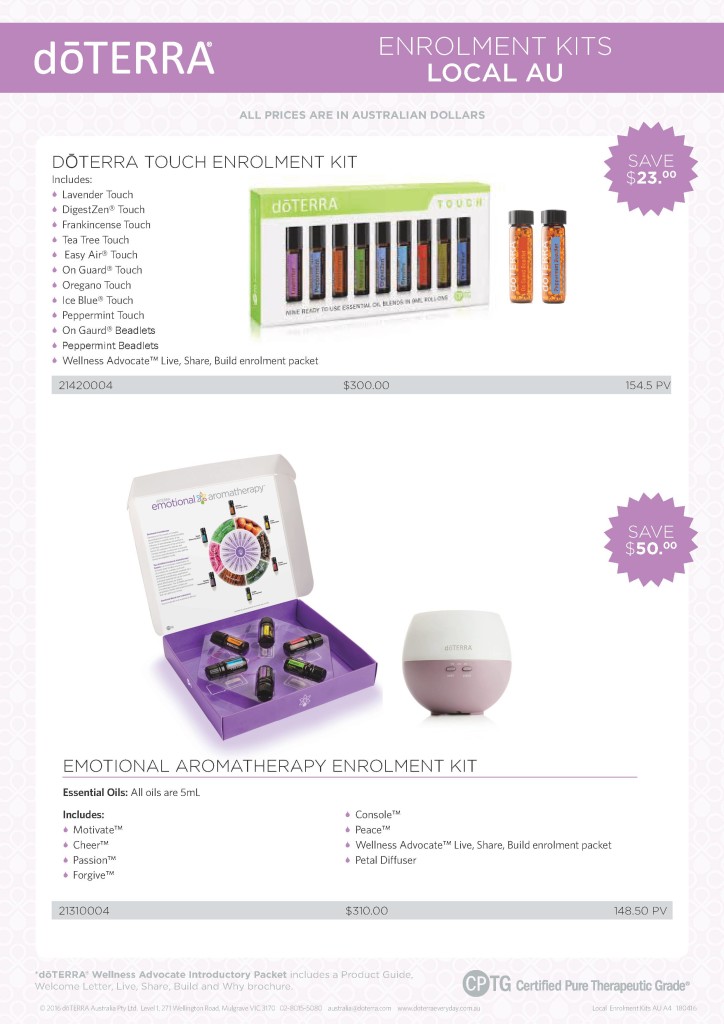 Which is the most popular kit?
The Home Essentials Kit comes with our 10 most popular oils and beautiful + functional petal diffuser, to buy all this separately WHOLESALE would cost $415 plus $35 enrollment fee. Retail would cost over $500 Australian.
In the kit it only costs you $330 which includes your enrollment packet, wholesale membership, own site and private support! Awesome!
The bottles are 15ml or 250 drops/bottle whereas the Essential Collection Kit (still a great budget friendly option) includes 5ml bottles.. the Home Essentials is three times the value, plus a diffuser, for less than twice the price!
What if I want to share doTERRA, sell retail or include it in my business? Or save the most money?
There are definitely advantages to choosing the Oil Sharing Kit, with our FAST TRACK program especially if you are excited to share right away or you wish to stock these wonderful oils this kit may be the right choice for you.
You will save $130+ plus you start on 20% loyalty rewards (free product points) instead of 10%- this will go up to 25% after 3 months and max out and continue on with 30% back after 6 months, when you include the 25% off RRP this means you are getting between 45 and 55% off!
AND when you place a min 100pv loyalty rewards order the month after your initial order you receive 200 PRODUCT POINTS for FREE!! That's over $200Au worth of free product. Definitely a smart business move!
What if I want to customise my order and not get a kit?
If you would like to see what other products we offer check out the product guide. Here is the full Australian price list
To customise your own wholeasle order just CLICK HERE <<< choose the country to ship to, then choose WHOLESALE ACCESS and either pick your kit or choose $35 option (membership waived with a kit) and customise by typing in the names of the products you want below.
The enroller ID should prefill but if it doesn't my ID is 1021209.
What if I want to ask some questions?
If you would prefer to discuss with me which kit would best meet your needs and get started with a wholesale account simply contact me via email or phone 0437 636 661 (can set up skype or google hangout as well) and I will set it up for you in as little as 5 minutes. You can join our team whether you live in Australia, New Zealand, America, Europe or many other countries around the world.
How do I create an incredibly abundant business with essential oils?
This is a wonderful, totally optional part of having a wholesale account with doTERRA and I would love to support you on this journey and teach you just how simple it can be to create a thriving, ethical, joyful and truly abundant business.
To find out more about the option of earning with doTERRA go here.
I look forward to having you a part of our amazing tribe of people using, loving and sharing these essential oils.