Be careful. You can literally never attend any kind of party, function, celebration again without bringing it. In fact you may be invited to things purely in the hopes you bring this salad.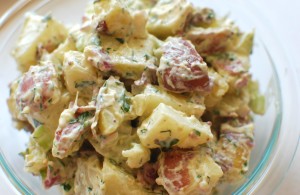 Here is the original recipe I used as inspiration.
Make sure you make double and triple quantities and get some before the vultures.
This is a Thermomix recipe.. sorry I don't know how to make shit without one.. guess you'll have to google it 😀
First up make the salad then the mayo to mix through. Note you want the egg to be ROOM TEMPERATURE so get it out of the fridge a few hours in advance at least.
Ingredients:
Salad-
1000 g (1kg) red skinned potatoes
150 g diced bacon (organic- pasture raised)
2 spring onions, sliced
20 g macadamia oil or butter
60 g parmesan, shaved (shave it yourself with a peeler or sharp knife to avoid all the nasty shit in the store bought stuff)
6 eggs (organic/local/backyard- pasture raised)
500 g filtered water
Dressing
1 egg, separated and ROOM TEMPERATURE
pinch of sea salt
doTERRA black pepper essential oil or ground black pepper
teaspoon organic mustard
tablespoon apple cider vinegar or fresh squeezed lemon juice
250g macadamia oil
drizzle organic balsamic vinegar
Add bacon, oil or butter and spring onion to Thermomix bowl and cook 100 degrees, speed 1 for 3 minutes (or fry up in frying pan low-medium heat until crisp if preferred). Transfer to salad serving dish. No need to wash bowl.
Add 500 g filtered water to bowl and place chopped (halves or quarters) potatoes- peeled or unpeeled into the Varoma (no tray). Steam for 15 minutes, Varoma temp, speed 2.
Without burning the living shit out of yourself take the Varoma off and insert the basket into the Thermomix bowl with the 6 whole eggs in their shells. Replace lid and Varoma with potatoes still inside and steam for a further 14 minutes, Varoma temp, speed 2. Check potatoes are cooked. A knife should pass through easily but not mash them. Leave potatoes in Varoma on bench with Varoma lid underneath to catch the drips so they can cool.
Remove basket with your spatula. Put eggs into a sink or bowl of cold water to cool down as you peel them. Quarter and slice eggs. Empty steaming water from bowl and dry.
Now for the mayo.
Insert butterfly. Add egg yolk, pinch of salt, 2 drops black pepper essential oil, teaspoon mustard and tablespoon lemon juice or ACV and mix 20 sec/speed 4.
With blades rotating on speed 4 and MC in place, gradually pour oil onto MC and allow to trickle through into mixing bowl to emulsify. Add oil at a steady pace, slowly to start with and then faster as the mayonnaise starts to emulsify. This process should take between 2-3 minutes. Drizzle a bit of balsamic vinegar in with it once the oil is all in.
Chuck potatoes into your salad bowl (on top of bacon & onion mixture). Jam the eggs and shaved parmesan (keep a little for garnish) on top. Pour dressing from bowl over the salad and mix that shit well.
Top with some spare spring onion or fresh chives and some of the shaved parmesan. This step is important. Gotta make that shit look fancy. Refridgerate until cool and serve.
You deserve top spot on Masterchef/MKR. Gloat over your brilliance.