Choosing a water bottle and water filter, that shit can do your fucking head in. I have gone through many a water bottle, broken them, lost them, hated them because they spill everywhere or they make the water taste weird or they are too big and bulky or effort to clean.. so many things to consider haha!! It's also important to choose the right water filter so that you're not drinky nasty rusty asshole, fluoride containing water. I use the Zazen. It's fucking awesome.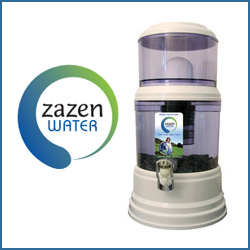 We asked  Joanne from Australia's biggest and most kick-arse water bottle retailer, Shop Naturally,  for some help answering your questions from Facebook earlier this week.
Q. Is plastic ok if it's BPA Free?
A. This is a personal choice. Firstly, let me briefly explain what BPA is. It's a hormone that's an endocrine disruptor, it can screw with your hormonal system. It's not the only one. There's just too much we don't know about plastic and what is or isn't in it. Here's what I do know after having a chat with healthy home expert Nicole Bijlsma last year in my warehouse. Plastic is more likely to start breaking down at extremes of temperature. Don't put it in the freezer, the microwave or the dishwasher. Don't leave it in a hot car for hours on end whether it's BPA Free or not. The clear & hard Tritan Eastman plastic like you find in the Camelbak bottles below are far less likely to leach plastic taste in to the water. The cloudy stuff with the #5 is polypropylene and it's BPA Free, but the flavour will come out in to the water.
Our hot picks for safer plastic bottles are The Camelbak Eddy range with a drinking straw & bite valve, the Camelbak Chute range with a simple screw lid and the Thermos Hydration Water Bottles with the flip lids.
Click HERE to view the range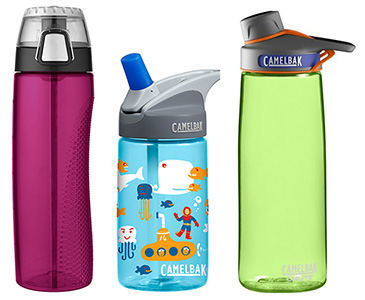 Q. I keep dropping my water bottle.
A. Oh no! This is a tough one guys. Anything you can drop forever without causing any damage is cheap flimsy plastic you can get from the supermarket full of water, plastic that will break down much quicker. I'm going to direct you towards a couple of the sturdier brands of stainless steel bottles and suggest you be a little more careful if you can. Any glass bottle will be more prone to breakage, even those with a silicone sleeve on them like the Lifefactory bottles and the Beautiful Beaches bottles in the neoprene pouches.
Our hot picks for the sturdier stainless steel bottles the KLEAN KANTEEN range, which were the first ever stainless steel water bottles produced in the world and for an insulated bottle, the BEAUTIFUL BEACHES which are shaped like a plastic soft drink bottle, except they're vacuum insulated and can store hot or cold drinks for hours and  hours with bugger all loss of temperature.
Q. I want to filter my water on the go. And is there a child friendly one?
A. Most of the cheaper water filter bottles on the market are like trying to suck a golf ball through a garden hose, bloody hard work. We prefer the Camelbak Groove series (both in bpa free plastic and stainless steel) but they do have some plastic on the inside and the lid.  The Eco Bud Little Penguin bottles are a thinner plastic that you can squeeze and these put minerals in the water as you drink too. The Camelbak bottles will last a really long time, the Eco Bud have a more thorough filter.
My personal favourite is the Waters Co pot. The filtration leaves the other two for dead. You just filter it in the little pot and then pour it in to your regular bottle. It's a pain if you're literally travelling and carrying the thing with you, but if it's for the office or you're away on holidays, it's seriously your new best friend.
View the full range of WATER BOTTLES WITH FILTERS
Q. How do you avoid the plastic lids in all the glass water bottles
A. Earlier this year we were stoked when we found a glass water bottle with a stainless steel inner lid and not a plastic one. They grow legs and run off the shelves, so we've bought them in bulk and have them permanently on sale. It's the Beautiful Beaches glass water bottle and it's made from borosilicate glass, like Pyrex, so you can put tea and coffee and hot chocolate in it too. Just don't change the temperature of glass too quickly or you'll crack it. Don't put boiling water straight out of the kettle, warm it up first with tap water and then maybe just do about 80 degrees.
View the full range of GLASS WATER BOTTLES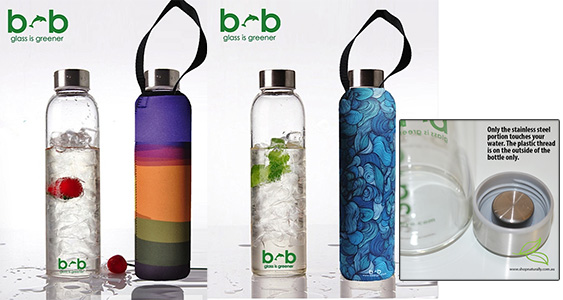 Q. I want a bottle for my smoothie
A. Absolutely go the Lifefactory glass bottles. They're the cute glass ones with the colourful silicone sleeves. There's three different types of lids, all BPA Free plastic.
1) Screw Lid – totally leakproof, no straw, just unscrew and drink. It's a wide mouth opening, can be just a little awkward, but you can add a sexy glass straw to fix that.
2) Flip Lid – much easier to drink from, the cover on the flip lid bit is silicone and if you put it in a bag, will bump off and your smoothie will go all through your bag. We sell spares, so you can transport with the screw lid and then switch caps for easy drinking if you want.
3) Straw Lid – this one is leakproof when closed and has a straw inside.  If your smoothie is really thick,  you may have an issue. Most will go through ok though. The purchase of a Sippy Straw Cleaner will get any bits of smoothie out of the bottle when you're done drinking.
View the full LIFEFACTORY range