Empowering Yourself
It's such an empowering feeling for me to have totally natural, safe, products in my home that I know I can turn to support myself, my partner and my two beautiful boys with every day things we experience as a family, even better that I get to teach others about them and help them empower themselves too!
Things like getting run down, struggling with sleep, tummy troubles, congestion, tension, scrapes, bites, and sore muscles, moods, focus and so much more and know that there won't be any adverse side effects, so I don't have that knot in my stomach when I use products I know could be detrimental to our health and the environment long term.
Something else that is hugely important to me as I have learnt over the years is using cleaning and personal care products without all the endocrine disrupting, carcinogenic and otherwise seriously dodgy ingredients. Plus we actually save LOADS of money and are supporting farmers and growers as well as entrepreneurs like me and plenty of others rather than massive corporations who unfortunately don't have our best interests at heart.
Nature's Solutions Kit
So that's why I am SUPER excited about this brand new kit, the Nature's Solutions Kit because I think it is the PERFECT combo to overhaul your home and it includes massive savings.
RRP for all these incredible products is $1124.42, when you get this kit it costs you $655.95 (incl shipping & gst). That is a saving of $468.47!!!
Plus when you place an order of 100pv value or more the following month (approx $120 worth) you will receive 100 free product points back to spend on whatever you like (over $100 value!!)
AND you fast track your loyalty rewards program and start on 15% back on future orders. Meaning you are getting 40% off the RRP price which will go up to 55% off over time!
Get started!
Watch this quick step by step video to show you how to set your account up.
Visit here to set up your account and remember to choose the WELLNESS ADVOCATE option.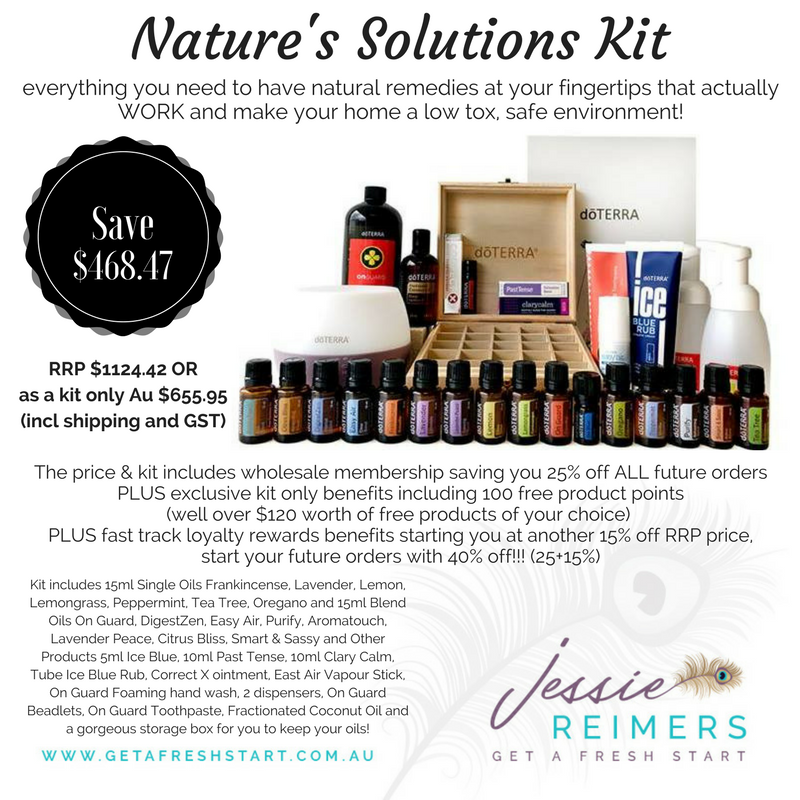 What does your kit include?
Ice Blue Rub
An amazing blend of Wintergreen, Camphor, Peppermint, Ylang Ylang, Helichrysum, Blue Tansy, Blue Chamomile, and Osmanthus in a cream base. Perfect for applying before and after workout, sore muscles and joints and to use in massage. Soothing and cooling.
Correct X
Is a multi-purpose, all-natural ointment that helps clean and soothe skin that is in distress. The perfect addition to any natural first aid kit. It includes Frankincense, Helichrysum, Melaleuca, Cedarwood, and Lavender—all essential oils known to help assist in soothing skin irritations. It provides a moisture barrier that helps protect while simultaneously soothing and hydrating the skin. This petroleum-free, preservative-free ointment absorbs quickly and is gentle and non-irritating, making it ideal for sensitive skin.
Fractionated Coconut Oil
An all-natural carrier oil that readily absorbs into the skin, making it an ideal oil for diluting your essential oils and using them topically. Its feather-light emollient effect provides a soothing barrier without clogging pores and is excellent for dry or troubled skin. It leaves skin feeling silky smooth and non-greasy, unlike other vegetable carrier oils. Fractionated Coconut Oil is completely soluble with all essential oils and is colourless, odourless, and will not stain clothes or sheets.
Easy Air Vapour Stick
Our awesome respiratory blend in a petrochemical free base, making the perfect natural option for an effective chest, back and foot rub for clear airways and easy breathing.
Petal Diffuser
A small, user-friendly diffuser that delivers health-promoting benefits to your family and home. It has a relaxing mist and soft white ambient light, making it ideal for nighttime diffusion (the light can be turned on or off), and can cover up to 330 square feet. The Petal Diffuser has three timed settings—1, 2, and 4 hours—allowing you to customize the release of essential oils into the air. This convenient diffuser is stable, light, and easy to use—perfect for home or office use.
Wooden Storage Box
Perfect for storing your new essential oils!
On Guard® Cleansing Toothpaste
Fluoride-free, SLS free, Natural Whitening Toothpaste combines the protective benefits of essential oils with other natural ingredients that help clean teeth, reduce plaque, and whiten teeth with gentle polishing agents. The doTERRA On Guard blend of Wild Orange, Clove, Cinnamon, Eucalyptus, and Rosemary essential oils provides an extra cleaning boost. Additional essential oils of Peppermint and Wintergreen, and the natural sweetener xylitol, give the toothpaste a refreshingly unique cinnamon-mint flavor that leaves your breath—and toothbrush—fresh and clean throughout the day.
On Guard® Foaming Hand Wash (with 2 dispensers)
Gentle cleansers and emollients clean and soften hands throughout the day without drying or irritating sensitive skin, doTERRA On Guard Foaming Hand Wash is pH balanced to protect the delicate moisture barriers of the skin. The spice and citrus aromas of doTERRA On Guard invigorate the senses during and after use. Infused with the On Guard Protective blend for extra immune support and to keep nasties at bay!
On Guard® Beadlets
dōTERRA On Guard Beadlets provide a flavourful dose of doTERRA's proprietary blend of Wild Orange, Clove, Cinnamon, Eucalyptus, and Rosemary, all contained in tiny vegetable beadlets that dissolve in the mouth to freshen breath and support the immune system. They are perfect for home use, while traveling, and to boost your family's immunity—anytime, anywhere.
ClaryCalm Roll On
ClaryCalm is a proprietary blend of essential oils that provides a soothing and calming effect during a woman's menstrual cycle. A topical blend of Clary Sage, Lavender, Bergamot, Roman Chamomile, Cedarwood, Ylang Ylang, Geranium, Fennel, Carrot Seed, Palmarosa, and Vitex, ClaryCalm provides a cooling effect to the skin and helps balance emotions. Apply to the abdomen, wrists and ankles, can help cool the skin and supports healthy hormones.
PastTense Roll On
Amazing for neck, head and shoulder tension, just roll on and rub in but it will also help calm the emotions contributing to the tension as well and help soothe and relax you!!
Frankincense
Known as the King of Oils it's uses are incredibly versatile. Emotionally it is the Oil of Truth. It is grounding, great for meditation, amazing for nervous system support and if you're feeling anxious, wonderful for pain, calming, great for the skin! Fine lines, pigmentation, stretch marks, sun spots etc.
Lavender
The swiss army knife of essential oils. Bites, scrapes, burns, sleep, relaxation, tension, sun burn. All the things!! A favourite for kids and adults. Emotionally the Oil of Verbal Communication.
Lemon
Smells and tastes divine. Antioxidant. Uplifting. Great for getting rid of grease and grime. Add to a spray bottle with vinegar to clean surfaces. Clean silver jewellery. Emotionally the Oil of Focus.
Lemongrass
Emotionally the Oil of Cleansing, diffuse or spritz through spaces that may have had negative interactions or energy. Divine in cooking! Great for sore muscles. Dilute with fractionated coconut oil.
Peppermint
Cooling, delicious in peppermint bliss balls, smoothies and all sorts of treats! Great for tension. Supportive of the digestive system. Crisp and fresh. Emotionally the Oil of Buoyant Heart.
Tea Tree
Great for sore ears, put on a cotton ball or rub behind the ear and down the mastoid bone (never put essential oils directly into the ear). Emotionally the Oil of Energetic Boundaries. Great for feet, toenails, keeping nits at bay, putting in the washing machine, natural cleaning.
Oregano
Extremely powerful immune support, always dilute heavily with fractionated coconut oil when using topically. Apply to the soles of the feet or diffuse with Frankincense and On Guard. Great for warts, skin tags etc. Emotionally it is the Oil of Humility and Non-Attachment.
On Guard
Protective blend. also powerful immune support, apply to the soles of the feet or diffuse. Emotionally the Oil of Protection. Put a drop in your hands, rub together and run around your field to provide energetic protection from emotional parasites as well as immune support.
Digestzen
Powerful digestive support blend. Dilute with fractionated coconut oil and apply to the stomach in a clockwise massage. Put a drop in water and drink. Great for nausea, apply to the wrists and breathe deeply from the bottle. Emotionally the Oil of Digestion for those with difficulty digesting life and who bite off more than they can chew.
Easy Air
Respiratory blend. Make your own petrochemical free chest rub, dilute in fractionated coconut oil and apply to the chest, feet and back. Also great for snoring, put on a tissue in the pillow sleep or diffuse. Emotionally it is the Oil of Breath.
Purify
An amazing cleansing oil. Try applying when you can feel a blind pimple coming through. Put on cotton wool balls and place in cupboards to keep moths at bay. Diffuse to keep insects away. Put in the washing machine instead of toxic fabric softeners, everything will feel soft and smell fresh! Clean the carpets and mattresses with it. Sprinkle purify and bicarb soda then vaccuum up! Emotionally it is the Oil of Purification.
AromaTouch
Massage blend. Take with you next time you get a massage and ask them to include it. It is very calming and relaxing but supports natural energy systems and adrenal glands. Try a few drops in the bottom of the shower and breathe in the steam for an invigorating, relaxing and air opening way to start the day. Emotionally it is the Oil of Relaxation.
Lavender Peace
Great blend to support sleep. Put in the diffuser or massage into the soles of the feet for sleep. Emotionally it is the Oil of Forgiveness.
Citrus Bliss
Invigorating blend! This delicious blend of Citrus oils and vanilla inspires creativity and smells absolutely delicious. A favourite for diffusing throughout the house or in your office! Take a drop in your hands, rub together and breathe deeply for a 3pm pick me up!
Smart & Sassy
Metabolic blend. Emotionally it is the Oil of Inner Beauty it can also help your body regulate it's natural metabolism (whether it may be too fast or slow) and cinnamon can help regulate blood sugar and manage cravings. Use a drop or two in a glass of water between meals! It can also support your body to naturally detox.
Follow the prompts and remember to choose the Wellness Advocate option and the Nature's Solutions Kit!
The Oil Sharing Kit
There are definitely advantages to choosing the Oil Sharing Kit, with our FAST TRACK program especially if you are excited to share right away or you wish to stock these wonderful oils this kit may be the right choice for you.
You will save $130+ plus you start on 20% loyalty rewards (free product points) instead of 10%- this will go up to 25% after 3 months and max out and continue on with 30% back after 6 months, when you include the 25% off RRP this means you are getting between 45 and 55% off!
AND when you place a min 100pv loyalty rewards order the month after your initial order you receive 200 PRODUCT POINTS for FREE!! That's over $200Au worth of free product. Definitely a smart business move!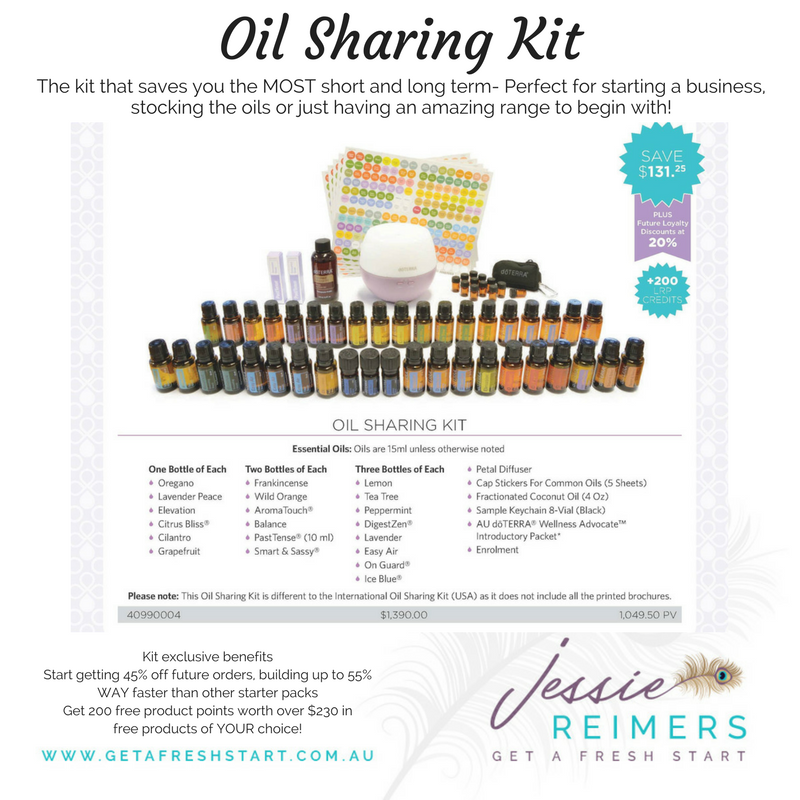 To find out more about our other kits and options head here.